Sports fans, you're in luck! The Mainstay Tavern is your "mainstay" for keeping up to date with all your favorite sporting events. Grab a seat in front of our large-screen TVs and enjoy the game with a cold beer and our critically acclaimed Kobe Beef burger! With a full bar and wine selection, our laid-back atmosphere is the perfect place to enjoy delicious cuisine and connect with friends, family and coworkers. You might even make a few new friends! Not ready to call it a day? Grab a late-night bite and relax to live music Tuesday through Saturday.
YOUR NEIGHBORHOOD
INSTITUTION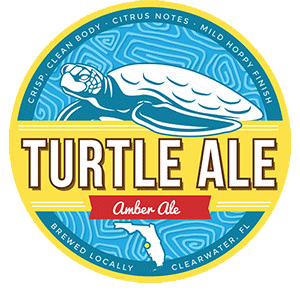 Turtle Ale, which was created for Sheraton Sand Key in collaboration with Pair O' Dice Brewing Company in Clearwater. The ale went through multiple re-workings until the Sheraton's Executive Chef John Harris thought it tasted just right.

Harris, who has delighted guests at the Sheraton with his cuisine for more than 20 years, wanted to create a beer that's perfect for sipping on the beach, one you can enjoy all day long. The dark caramel-colored amber ale, with its crisp, clean body, citrus notes and mild, hoppy finish is just that beer.
​
"I wanted to create a beer that made guests feel like they were tasting the distinct flavors of Clearwater Beach," Harris said. "Clearwater has one of the top ten beaches in Florida, and it deserves an ale of equal caliber. Guest feedback has been nothing but positive, so we must've done something right."
Turtle Ale is currently only available at the Sheraton in both the Mainstay Tavern and outside at the Turtle Bar, so if you want to taste this unique summer ale, you'll have to make your way down to Clearwater Beach.
Weekdays: 8:00PM-11:00PM
Weekends: 9:00PM-12:00AM